Today, we will talk about Komaki Ranger. As you all know that Komaki is the brand which specially deals in Electric bikes and scooters. As the price of petrol is increasing day by day and it is not going to stop, electric vehicles are our only option. Most of the companies deal in only scooters but Komaki is one of those companies producing electric bikes. We will go through its specifications, how much it costs and what will be the down payments.
Today's topic is Komaki Ranger which has a look similar to that of Harley Davidson, and you can't underestimate it. Let's go through this.
Salient Features of Komaki Ranger 2022
We will have 3 colour options in Komaki Ranger which are Wild Red, Blue and Black.
Having a first look at this bike, you will not believe it is some electric bike. It has a huge windscreen. It has a look similar to that of Harley Davidson.
It has a stunning chrome finish.
In the headlamps we will get 3 LED headlamps, thus proper vision at night is confirmed.
In most electric vehicles, there is no engine sound, but this comes with an option to turn off the made-up engine sound. So those who want some adrenaline rush by the engine sound can definitely get this.
It comes with a Lithium Ion Battery with a capacity of 72V/ 50Ah. The one-time charge can cover up to 180 km.
Its charging time is about 4-5 hrs
The seating experience is very comfortable which will never let you feel tired on longer routes.
It also comes with two side boxes for storage with the good build quality. Therefore, it is good to go on a longer route.
it comes with 3 modes. In the 3rd mode, its top speed is up to 80Km/hr.
The lock and unlock button is provided in its key itself.
It also comes with a USB port to charge your mobile phone.
It has Bluetooth connectivity as well.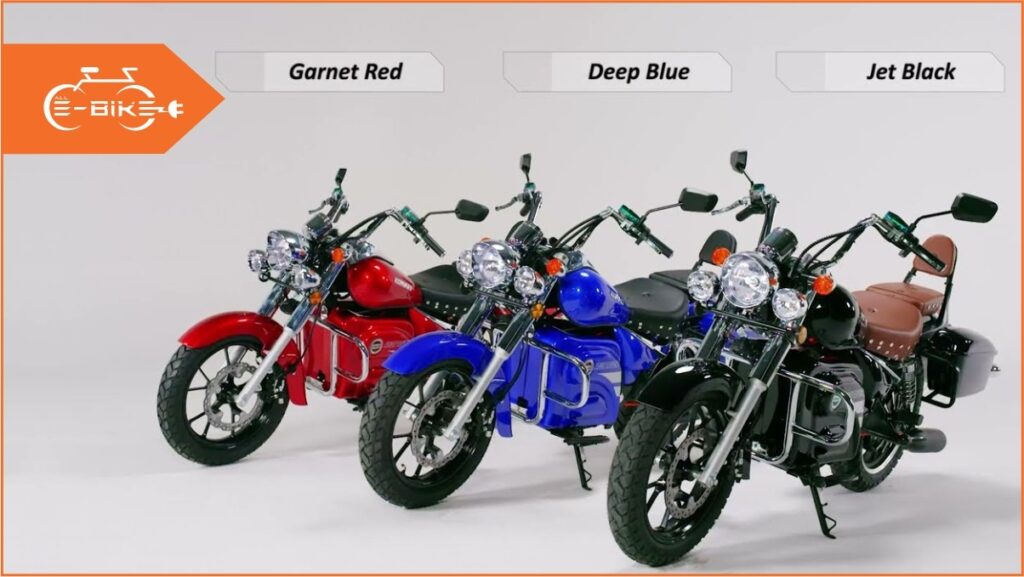 Komaki Ranger Specifications
Komaki Ranger Features
| | |
| --- | --- |
| Braking Type | Combi Brake System |
| Charging Point | Yes |
| Mobile Connectivity | Bluetooth |
| Riding Modes | Yes |
| Cruise Control | Yes |
| Speedometer | Digital |
| Tripmeter | Digital |
Engine and Transmission
| | |
| --- | --- |
| Motor Power | 4000 W |
| Range (Eco Mode) | 200 km/charge |
| Starting | Push Button Start |
Features and Safety
| | |
| --- | --- |
| Breaking Type | Combi Break System |
| Charging Point | Yes |
| Speedometer | Digital |
| Tripmeter | Digital |
| Additional Features | Dual Sound pipes with flame effect, Front Body Guard, Turbo Mode, Rear Protection Guard, Gear Mode |
| Seat Type | Split |
| Passenger Backrest | Yes |
| Passenger footrest | Yes |
| Cruise Control | Yes |
| Call/Sms Alert | Yes |
Underpinnings
| | |
| --- | --- |
| Suspension Front | Telescopic Front Fork |
| Suspension Rear | Telescopic |
| Brakes Front | Disc |
| Brakes Rear | Disc |
| Wheel Size | Front :-431.8 mm,Rear :-431.8 mm |
| Wheels Type | Alloy |
| Tubeless Tyre | Tubeless |
Why you should buy Komaki Ranger 2022?
Its on-road price is Rs. 1,90,000
The subsidy given by the government on Komaki Ranger is Rs. 20,000. So after subsidy, it will cost you around 1,70,000
If you have a CIVIL score of 750 then 70-80% can be finance and the rest will be the down payment.
Looking on the bright side, if you travel around 50-60km every day and petrol costs you around Rs. 200-250 per day. But after buying this Komaki Ranger you will save around Rs. 6000-7000 on petrol. It doesn't require any maintenance other than battery maintenance.