OLA S1 ELECTRIC SCOOTER vs OLA S1 PRO ELECTRIC SCOOTER
The design, performance, technology of Ola S1 electric scooter and Ola S1 pro electric scooter is 90 km/h speed and the top speed of the S1 Pro is 115 km/h
OLA Electric Scooter S1 Pro Specifications
DESIGN
Ola S1 pro design and look is very attractive. Ola company has designed S1 pro in such a way that it attracts customers on its side, Ola S1 four color Green, Red, Black, Yellow, Blue, Purple, Pink Comes with White, the weight of Ola S1 is 125 kg.
POWER
Ola S1 pro electric scooter has a battery of 3.97 KW/h, a 750 W charger is used to charge it, with this charger the battery gets full charged in 6 hours.
The Ola S1 pro also has a 5.5 KW IPM motor and 8.5 KW peak power, its torque is also 58 NM which is quite right.
TOP SPEED, RANGE
The top speed of Ola S1 pro is 115 km/h. It is going to give tough competition to the electric scooter,s in terms of speed.
ola s1 pro speeds up to 0-40 km/h in 3 seconds and 0-60 km/h in 5 seconds
It gives an IDC range of 181 kms on full charge.
TYRES, BRAKE AND SUSPENSION
The tyres, brakes and suspension in Ola S1 pro are similar to the S1 electric scooter.
The front tyre of Ola S1 pro is 110/70-12 and rear tyre 110/70-12 size M R F tires.
The Ola S1 pro electric scooter gets 200 mm disc brake at the front and 180 mm disc CBS standard brake at the rear.
The S1 Pro gets single sided fork suspension at the front and Monoshock suspension at the rear.
FEATURE
Ola S1 pro also gets 7″ touchscreen display which shows speedometer, odometer, riding mode, battery status, in this you get to see 3G RAM, Octa core processor and it has 4G, WIFI, Bluetooth connectivity system. With the help of Ola electric application, you can connect your mobile to the display.
Many features have been given in Ola S1 pro, it also has Reverse mode system and it has three modes Normal, Sport and Hyper and Ola S1 pro also includes Cruise control, Hill hold control, Voice assistant, you can also sing in it. can hear.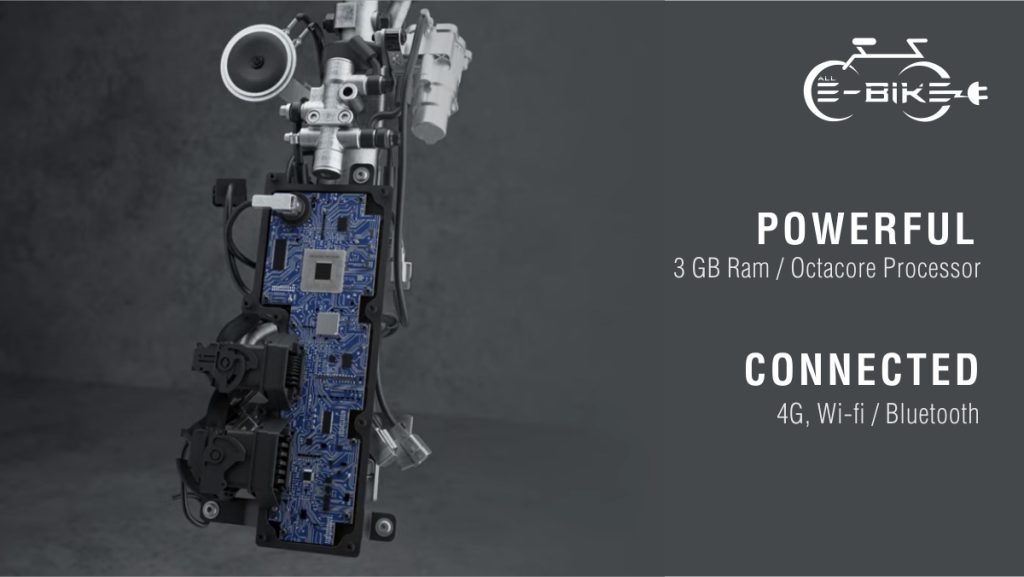 Ola S1 Pro electric scooter price in india
Ola S1 electric scooter Ex showroom price is 1,29,999 INR (1750.42 USD) but after Fame Subsidy in many states its price also reduces.
| State | Price |
| --- | --- |
| Delhi | 1,10,149 INR (1483.14 USD) |
| Gujrat | 1,09,999 INR (1481.12 USD) |
| Maharastra | 1,24,999 INR (1683.10 USD) |
| Rajasthan | 1,19,138 INR (1604.18 USD) |
To buy Ola S1 pro, you can buy Ola S1 pro on Olaelectric.com on 8 Sep. After this, the delivery of S1 Pro will be available in October.
If you want to buy Ola S1 Pro on EMI, then its EMI will have to be paid 2,999 INR/month (40.38 USD/month).
Ola S1 Pro Specifications
BASIC
| | |
| --- | --- |
| Brand | Ola |
| Model name | Ola S1 pro |
| Modes | Normal, Sport and Hyper |
| Color | Green, Red, Black, Yellow, Blue, Purple, Pink, White |
| Kreb weight | 125 Kilogram |
| Ground clearance | 165 mm |
| Seat height | 792 mm |
| Wheelbase | 1359 mm |
| Underseat storage | 36 liters |
POWER
| | |
| --- | --- |
| Battery | 3.92 KW/H |
| Charger | 750 W Portable charger |
| Charging time | 6 Hours (100%) |
| Motor | 5.5 KW |
| Peak power | 8.5 KW |
TOP SPEED AND RANGE
| | |
| --- | --- |
| Top speed | 115 km/h |
| Catch speed (5 seconds) | 0-60 km/h |
| Catch speed (3 second) | 0-40 km/h |
| IDC Range | 181 KM |
TYRE, BRAKE AND SUSPENSION
| | |
| --- | --- |
| TYRE Front | 110/70-12 M. R. F |
| TYRE Rear | 110/70-12 M. R. F |
| BRAKE Front | 220 mm disc brake |
| BRAKE Rear | 180 mm disc CBS standard brake |
| SUSPENSION Front | Single-sided fork suspension |
| SUSPENSION Rear | Monoshock suspension |
STANDARD FEATURE
| | |
| --- | --- |
| Proximity Lock/unlock | Yes |
| Remote boot lock/unlock | Yes |
| Side stand alert | Yes |
| Anti-theft alert system | Yes |
| Headlight | LED |
| Indicator | Yes |
| Reverse gear | Yes |
| Onboard navigation | Yes |
| Normal mode | Yes |
| Sport mode | Yes |
| Cruise control | Yes |
| Hill hold control | Yes |
| Voice assistant | Yes |
| Music play | Yes |
| Custom sound | Yes |
| Price | 1,29,999 INR (1750.42 U.S.D) |